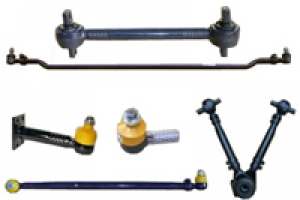 Production of automobile parts is based on the long-standing manufacture of rubber-metal and other products for vibration attenuation and elastically connecting chassis parts.
Basic types of these products are ball-joints, steering rods and tie rods, torque rods and axle rods with elastic and sliding joints.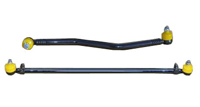 All parts are manufactured according to assimilated documentation of vehicle manufacturers, for various buses, trucks, tractors, forklifts and other vehicles of leading world manufacturers such as Mercedes, MAN, IVECO, TVM (TAM), VOLVO etc.
In lack of documentation, thanks to long-standing experience it is possible to manufacture a product based on a sample or special demands of the client.
Apart from the complete axle or torque rods it is possible to manufacture and deliver interchangeable parts of joints, or reparation of rods according to customer demands.