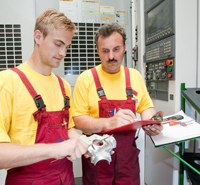 Thinking about lowering your production costs?
Yes, we can help you with that!
Thanks to our machine park equipped with latest generation of high technology tooling machines, we can produce all sorts of cogwheels, rubber-metal parts (like elastic shells), engine frames, exhaust frames, splashboard frames, cabin frames, rigid axles, gearboxes, rods, ball-joints etc…
We can also offer a complete assemblage and mounting of all sorts of vehicles, since our factory is equipped with large assembly facilities.


REFERENCES

SAME DEUTZ FAHR – we produce OEM parts (cog-wheels, sprockets, axles, etc…) for first mounting on combine harvesters.
PODRAVKA – we produce spare parts for their machines.
Čazmatrans – we produce beams, tonsils, joints and other spare parts for busses.
Croatian forest (Hrvatske šume) – we produce OEM parts (cog-wheels, gearboxes, beams, sprockets, axles and other various machine elements) for first mounting on forest skidders and spare parts for other forest tractors and machinery.
TVM Slovenija – we produce OEM parts (steering wheel beams, leading beams, beam tonsils etc…) for first mounting on busses which are exported to Iran, and beams for NEOPLAN busses produced for German market.
ESCO is a company that covers 30% of EU market with production of double-torsion springs and springs for the automobile industry. We do machining services for them, production of spare parts for tooling machines according to customer's drawings and schematics, production of axles, sprockets, cog-wheels and machine parts.
VIBROBETON – we execute complete reparation of worm reduction gears, from dismantlement, new parts tooling and assembling again.
OUR REFERENCES and exclusive partners